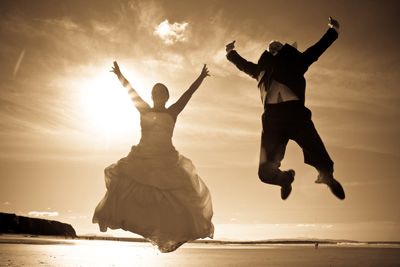 Our DJ System is Programmable and Dependable! Our Virtual DJ Never Has an Attitude!
All For Under *$275.00 for the whole day!

The First Computerized Disc Jockey For your
Wedding is Here!
Welcome to the Connecticut Virtual Wedding DJ Home Page. We are your premier source for today's hottest technology and music. Everyone deserves a stress free fun wedding and reception. You can count on Connecticut Wedding Virtual Disc Jockey Service to make that a reality. We will help you plan from beginning to end, with our specialized wedding and party planners. You set the play list of music that you want to hear, in your choice order. We supply virtually all the music a selection of 155,000 songs. We are a Hartford CT, Greenwich and Stamford CT based DJ service and DJ Equipment Rental Service. Our main office is Rent Karaoke Boston and U-Rent Karaoke.

We also have Disc Jockey's with 15 to 25 yrs experience on hand to run the system for only $75.00 per-hour.
Disc Jockeys in your area:
Hot Traxx DJ Service, Rhode Island Disc Jockey Service, Massachusetts Disc Jockey Service, Super Sweet 16 Quinceanera in New York, Boston Sweet 16 / Quinceanera, A 1 Wedding Disc Jockeys , RHODE ISLAND DJ SERVICE, RHODE ISLAND DJ SERVICES and Connecticut Disc Jockey Service.

Karaoke and DJ Equipment Rentals we highly recommend:
U Rent Karaoke of Providence Rhode Island, U-Rent Karaoke of Fall River/ New Bedford, Rent Karaoke Boston, Rent Karaoke Connecticut, Rent Karaoke Plainfield MA, New York City Karaoke Rentals, Boston Virtual Wedding DJ , Connecticut Virtual Wedding DJ , New York Karaoke Rental , Rent Karaoke New York, Long Island Karaoke Rentals , Boston Karaoke Machine Rentals , Karaoke Rentals in Boston , We love working with Asian Karaoke Rentals and. New York City Virtual DJ,

My name is Raymond, I'm here to answer any questions, so please Call!
Call today! Call:
(860) 924-4386
Email :
Info@rentkaraokeconnecticut.com
Wedding DJ in connecticut, Disc Jockeys in Greenwich, Disc Jockeys in Stamford, Disc Jockeys in Darien, Disc Jockeys in Norwalk, Disc Jockeys in Westport,Disc Jockeys in Bridgeport, Disc Jockeys in Stratford, Disc Jockey in Hartford, Disc Jockey in Wilton, Disc Jockey in Weston, Disc Jockey in New London, Disc Jockey in Old Lyme, Disc Jockey in Groton, Disc Jockey in Norwich , Ledyard Disc Jockey